Account
Signs
Magnets
Banners
Stickers & Decals
License Plates
Flags
Shirts
Sign Holders
More
Promo Applied: 20% OFF EVERYTHING WITH FREE SHIPPING!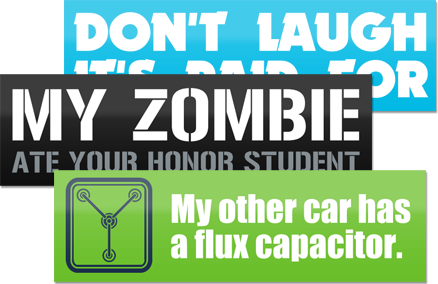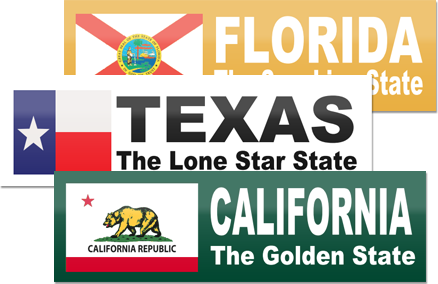 Cheap Bumper Stickers
Make custom cheap bumper stickers for only each!
Pick from one of our popular templates or use our simple design tool to create your unique message. Plus Free Shipping!
Browse
Other Categories
I'm looking for:
All Prices Are For Unlimited Colors
Shop Categories
Start from Scratch
Let your creativity run wild with our easy-to-use tool!
ea
Bumper Sticker(s) @
Total
Why BuildASign.com?
We make it easy to design your own Bumper Sticker
Design Whatever You Want
Over 1.9 Million Bumper Stickers Sold
No Minimum Quantity
Free Shipping on all Bumper Stickers
Order Custom Bumper Stickers Online
Express yourself with a bumper sticker from BuildASign.com. Personalize any of our hundreds of bumper sticker templates or create a custom sticker from scratch. With BuildASign, your bumper sticker options are endless. We have bumper stickers to fit every personality. Choose from one of our many categories including funny bumper stickers, political stickers, sports stickers, and tons more. Our custom stickers can spread any message you like. Unlike our competitors, our sticker templates are fully customizable. You can use our handy design tool to modify any of our stickers to your liking. BuildASign has the best options when it comes to custom bumper stickers. With over 1.9 million stickers sold and counting, we have become the experts on bumper sticker printing. Our bumper stickers start as low as $2.99 and include free standard shipping as well. There is no minimum quantity required to purchase. You can order our bumper stickers in bulk or purchase as little as one. They are printed on a high quality vinyl material with a permanent adhesive backing. They are ready to put on your vehicle the second they arrive. All of our stickers are water resistant and can even withstand fading and weathering. Add a car or truck bumper sticker to dress up your ride. Order a custom bumper sticker from BuildASign.com today and start spreading your message to the world!