Corrugated Plastic Quantity Discounts
Quantity
1
2
5
10
25
50
75
100
12" x 18"

$12.78

$15.98

$12.54

$15.68

$9.44

$11.80

$7.74

$9.67

$7.48

$9.35

$3.74

$4.68

$2.84

$3.55

$2.06

$2.57

18" x 24"

$21.47

$26.84

$21.06

$26.32

$16.21

$20.26

$13.48

$16.85

$11.88

$14.85

$6.74

$8.42

$5.15

$6.44

$3.68

$4.60
Custom Signs
Boost Your Business or Elevate Your Event
Our custom signs can be spotted everywhere, from local intersections promoting a local restaurant or in your neighbors front yard announcing their teenager is graduating. At BuildASign, our professional manufacturing experts know just how to create custom signs that are perfect for any kind of use case.
Let us create your custom signs and see exactly why millions of customers have used BuildASign for sign printing!
Here is why our customers love our custom signage:
Durable Outdoors - Fade & Weather Resistant
We provide a variety of top-notch raw materials used to create beautifully printed signs from corrugated plastic signs to rust-proof aluminum signs to 3M reflective aluminum signs for high night time visibility and more. Our custom yard signs and banners are all printed with UV inks that prevent fading.
For more information about all the different materials we print on, check out our About Our Materials sheet.
Fast Sign Printing & Fast Delivery - Even Get it Next Day!
Last minute events are kind of our thing. We are proud to be so fast that anyone can get a custom sign printed when they need it! Regardless of what shipping method you choose, our goal is to ship next business day. So if you place your order today before our 4pm CST business day cut off time, our goal is to print and ship it next business day. At checkout, you will see a specific delivery date for each shipping method so you will know exactly when you should get it. We even offer NEXT DAY AIR and 2-DAY AIR shipping methods to get your custom signage as soon as possible.
Vivid Sign Printing - Full-Color Photos to Business Logos
You can turn sidewalks, windows and yards into front-page ads with the right custom business signs. The most important part about a custom sign is that the sign printing is legible, easy to read, which is another great reason to choose BuildASign. We use high resolution printing so that the end result looks professional, and that the fonts and colors you choose to use from our design tool crisp even close up
If you have a photo to upload, you're in great hands. One of our most popular customers are real estate agents who typically upload a photo to their business signs, so you can rest assured that we strive for any uploaded images to be printed beautifully and look professional. For uploading photos, use the best quality image you have available. If using an image from your camera, take the picture at the highest setting the camera provides. If scanning a picture, set your scanning software to scan at 300dpi.
To use a logo, or any image created by a graphics professional from solid lines and colors (specifically called 'vector art'), using an EPS file is the best choice. By using an EPS file in your design, you can retain the sharp lines in your original image, even if the file size you use is very small. If you do not have access to an EPS file, then GIF or PNG file formats are the next best print quality. If you have any questions or concerns about what youre uploading, just give us a call and we'll help you out!
Protective Anti-Scratch Glossy Coating
Our sign printing is beautiful, but when you add on the option for protective glossy coating, our custom signs are next level! Our anti-scratch protective glossy sign coating is a sure fire way to make your sign colors more vibrant so that colors really pop when on display indoors or outdoors. In addition, for those who have a sign planned to be placed outside, the anti-scratch quality of this laminate will help protect from scratches due to typical weather and outdoor debris. Below shows the differnce our glossy protective coating makes to the appearance of your sign. First shows the enhancement to aluminum, second shows the enhancement to corrugated plastic. We hope this helps you in your decision!
 Aluminum Example:
 No Coating on Left, Protective Glossy Coating on Right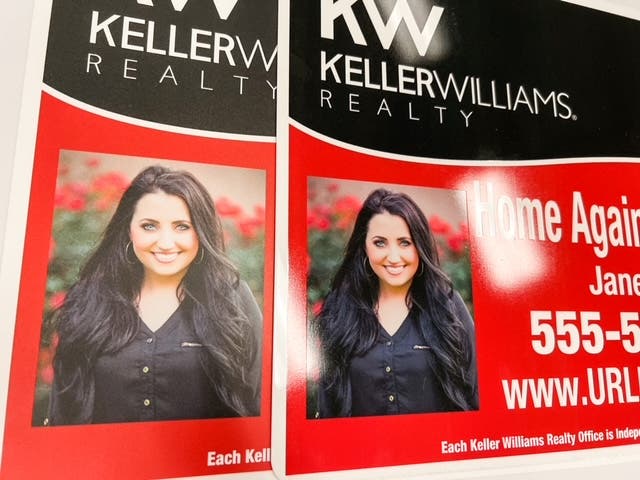 Corrugated Plastic Example:
Protective Glossy Coating on Left, No Coating on Right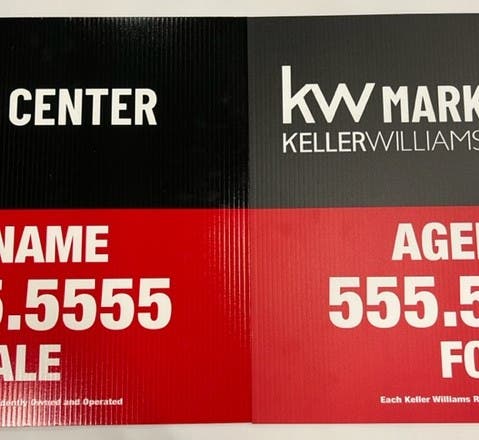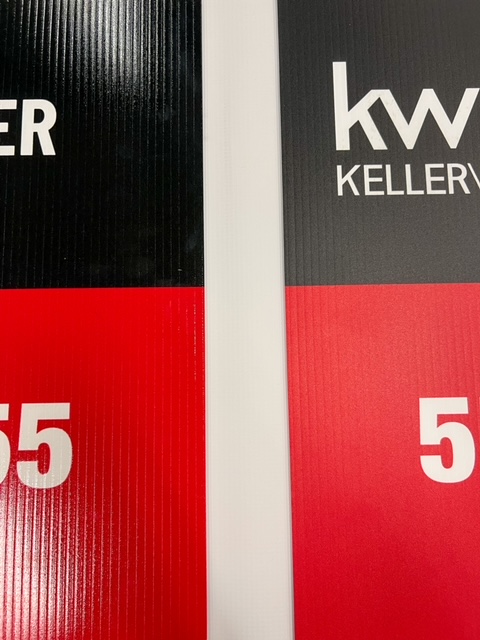 Customize Your Signs
Easy Online Sign Design Tool & Design Services
Start with one of our fully customizable pre-designed templates to help you get started in our design tool, or you can opt to start completely from scratch (with a blank sign design). It's easy to select fonts, change text, add clipart, add uploaded images, or even upload a full graphic design you've already created.
If you need any personal help at all with your business signs or personal sign designs, we would love to help, and can even help with most designs for free up to two proofs using our clipart and fonts, just give us a call at 1-800-330-9622 or check out our sign design services page.
Double-Sided Option w/ Fully Customizable Backside
At BuildASign, when we say custom signs, we really mean it! For most of our sign types, we offer both a single-sided and double-sided option, but we've improved your customization experience by now allowing you to copy the frontside of your design to the back with a click of a button OR fully customize your design on the back differently from the design on the front! Your sign, your way!
How to Display
We offer a wide variety of ways to display your custom signage - what you use will just depend on the size, material and location you plan to display your sign. We try to make this selection as easy as possible for you by presenting you with options on your way to checkout that are the correct fit for the size and material you've chosen. However, we don't have room to display all of our options possible for each sign, so we've gathered all our sign and banner accessories here for you to navigate through separately if you'd like to browse for the perfect display hardware for your custom signs.
Need to Display a Sign Outdoors? If you plan to purchase a corrugated plastic sign, the easiest way to display these in a lawn is to purchase an affordable wire stake that will slide into the flutes of the sign and is easily pressed into the ground. You can also insert corrugated plastic signs into our metal sign frames or use them for a sandwich board display.
If you plan to purchase an aluminum sign, we suggest the metal sign frames. Most sizes are also light enough to be hung on a wall with command strips or double sided foam tape which you can easily purchase on our adhesive accessories page.
Need to Display a Sign Indoors? Opt for our new Floor Sign Display Easel (shown below on the left) that adjusts to hold various sizes of signs. It looks professional, and it folds up into a perfect small carrying bag. To display, you just hold from the top of the easel and let the pieces fall and magnetically attach together in a matter of seconds. We even offer a small Tabletop Sign Easel (shown below on the right) for holding signs professionally on top of a table at your next event!