Poster Pricing
Quantity
1
2
5
25
50
100
250
500
20" x 16"

$12.10

$15.13

$8.87

$11.09

$7.29

$9.11

$6.24

$7.80

$5.89

$7.36

$5.78

$7.22

$5.71

$7.14

$5.71

$7.14

24" x 18"

$14.20

$17.75

$12.02

$15.03

$9.18

$11.47

$8.12

$10.15

$7.77

$9.71

$7.66

$9.57

$7.66

$9.57

$7.66

$9.57

30" x 20"

$17.12

$21.40

$14.80

$18.50

$12.04

$15.05

$10.77

$13.46

$10.41

$13.01

$10.30

$12.87

$10.30

$12.87

$10.30

$12.87

36" x 24"

$19.62

$24.53

$17.18

$21.48

$14.31

$17.89

$13.02

$16.28

$12.68

$15.85

$12.55

$15.69

$12.55

$15.69

$12.55

$15.69

39" x 26"

$31.78

$39.73

$27.10

$33.87

$23.64

$29.55

$21.88

$27.35

$21.53

$26.91

$21.42

$26.77

$21.42

$26.77

$21.42

$26.77
Custom Posters
Personalize Eye-Catching Custom Posters
Think it's tough to print a custom poster that looks good? Not anymore! With our easy online poster printer you can make professional-quality posters without ever leaving your house!
Create a one-of-a-kind poster that will get people talking with the help of our user-friendly, fully custom poster maker. Simply select a template, create or upload your design, and order prints! With our speedy delivery, you'll have your custom posters in no time!
Speedy Delivery
BuildASign provides fast poster printing regardless of what shipping method you choose at checkout. For all custom poster orders placed before 4pm CST, our goal is to have it printed and shipped out the NEXT business day! Depending on how quick you need your custom made posters, you can choose a shipping method that gets it to you on time, we offer everything from standard ground shipping to next day air shipping!
Full-Color, Vivid Printing on Photo-Realistic Paper
Beautifully designed posters are an effective way to get your message noticed. Our posters are printed on high quality, 9 mil photo-realistic poster paper with a stunning color gamut. They have a sophisticated and professional semi-gloss finish and are recyclable! They are water repellent, and can be used short term for outside use, but are recommended for inside use as they will last longer. See our beautiful poster paper below: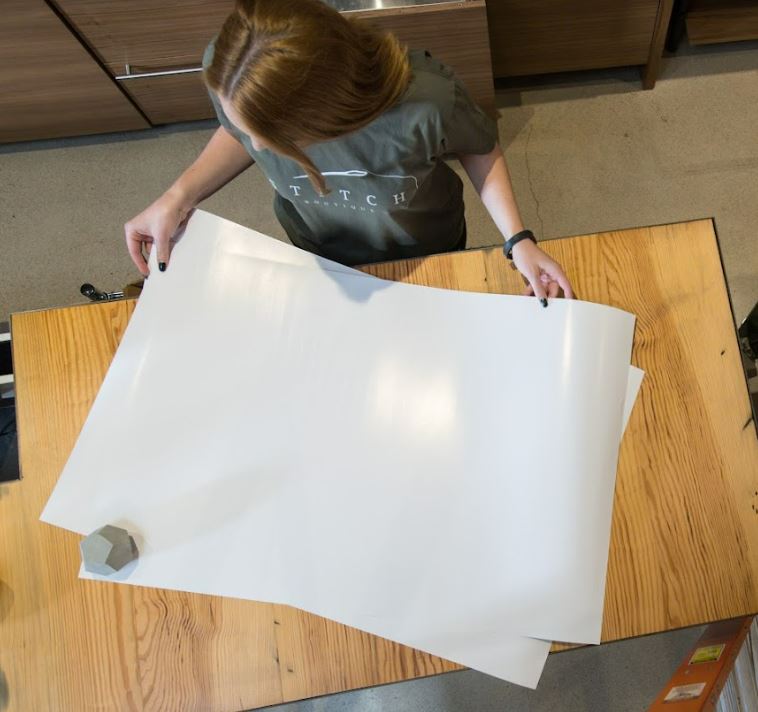 Buy More, Save More
We know everyone is working with a budget, so we try to make our posters as affordable as possible! We offer quantity discounts at multiple breaks, we even give you a discount per poster on buying 2 instead of 1! So make the most of your message, and save more per poster when you buy more!
Size Options & Info
We recommend 24"x36" to our customers, this is the ideal size for grabbing attention and is the most common size you typically see out and about.We also love the 18"x24" because its just a little smaller for a perfect indoor display inside offices, clinics and indoor retail stores.For smaller spaces, 16"x20" is another popular size, and is ideal for smaller pieces like artwork for a gallery.Here is a list of all of our poster sizes in both portrait and landscape orientations.
Portrait Sizes
17" X 11",
20" x 16"
36" x 24"
24" x 18"
30" x 20"
39" x 26"
Landscape Sizes
11" X 17",
16" x 20"
24" x 36"
18" x 24"
20" x 30"
26" x 39"
Making Poster Printing Easy
100% Fully Customizable
Our custom poster designs are 100% FULLY CUSTOMIZABLE and available to you for helping you get started on your design. Customize and print posters in your own unique style for use at events, theaters, retail establishments, concerts, business events, nightclubs, celebrations, social causes, and other purposes. You can upload image files in the following wide variety of formats: EPS, JPG, TIF, BMP, GIF, and PNG files. Please give us a call and let us know if you have any trouble uploading a certain file type or size, we can help!
Exceptional Customer Support
Our team of customer service representatives is ready to assist you in creating your custom poster in every way possible. Don't hesitate to reach out to us so that we can help you create a posters that are entirely unique to your business or brand persona.
Complementary Products
We provide a range of products designed to increase your brand's visibility. You can also order yard signs, banners, flags, magnets, bumper stickers, and more to further spread the word about your campaign or business.
Displaying Your Posters
Putting up posters is a piece of cake. Various methods exist for installing or hanging posters. Most customers opt to use our adhesives or double sided foam tape which is ideal for quickly applying to a wall. You can also frame them if you like. Check out our available poster frames and poster stands.